Binx Engineer Maarten Baijs Hones His Craft in the Cloud
Maarten Baijs, a Cloud Engineer at Binx, is a natural problem-solver and enjoys tinkering. These qualities have proven well suited for his profession and, fittingly, led him to join the team at Binx and become an expert in Google Cloud. This potential of the cloud inspired him to learn more about the cloud and take on more cloud-based projects. He joined Binx so he could work on cloud-native projects full-time. His efforts paid off because currently, Maarten is the only non-Googler in the Netherlands to have obtained 6 official GCP certifications.
"I started out as a software engineer," he explains, "I had a client that was on Google Cloud and I got really fond of working with it. When I looked at other clients that weren't on the cloud I could see what a big leap forward it offered."
Putting the Puzzle Together
Completing a Google cloud certification was a natural next step in Maarten's professional development, both to satisfy personal curiosity and to show clients he has a basic understanding of the cloud. Being certified has a huge impact on his work because "it brings you in contact with new services and capabilities of Google cloud so you know they exist. Then, when you are working on a client project you know which pieces of the puzzle you need to put together."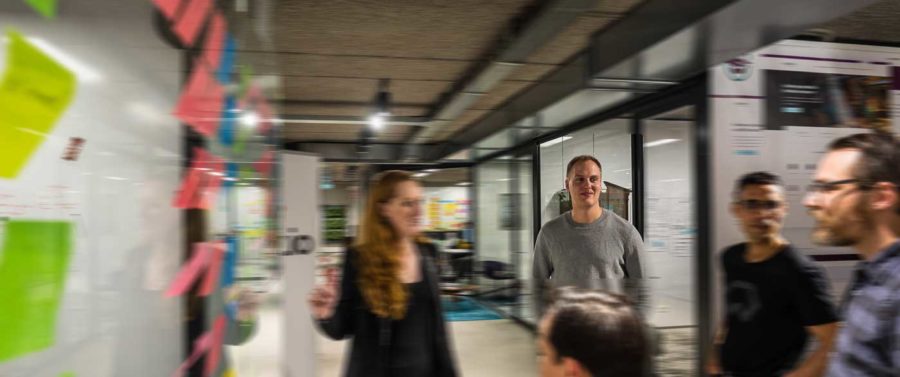 Most Certified Dutch Non-Googler
It started with the Cloud Architect certification, then one certification quickly led to another.  "I noticed there were all these other certifications and just thought, well, why not try to get them all?" Maarten quickly moved on to Cloud Developer, Security Engineer, Data Engineer, and Network Engineer. Finally, Maarten added the Collaboration Engineer certification to his belt. Laughing, he acknowledges this endeavor is a bit of a moving target because Google keeps offering new certifications. With six completed, Maarten already has his eye on another one—and will possibly even complete the course to teach and certify others.
Consulting is a natural fit for his curious nature because "you come in contact with a lot of different environments and technical challenges. It's a very good way to gain knowledge." Instead of working on one product for one company, Maarten's problem-solving skills are constantly engaged by the challenges faced by clients.
The Rewards of Exposing Improvements
Working with the same clients on multiple projects to evolve their business is another aspect of consulting Maarten enjoys. Often, optimizing one part of a system exposes other aspects that would benefit from a migration to the cloud.

"At many clients, my involvement started with a small scope. Because of the results, these projects often evolved into projects that involve multiple workloads and teams. That's really rewarding."
Ongoing Experimentation
The culture of continuous learning at Binx has been an ongoing motivator for Maarten. For example, innovation days, held every two weeks while in the office before COVID, provided an opportunity for him to experiment with new technologies independent from client projects. Maarten says this freedom to experiment "really helped me a lot throughout the years. Because with customers, you have to deliver something but on these days you could just try something out. If it didn't work you could throw it away but you still learned something." These lessons learned carry over to client projects, often in unexpected ways, and Maarten says that the continuous learning culture is one of the core benefits of working at Binx.
"When a colleague tries something and talks about it I get intrigued and often try it out myself," Maarten says. He has found many kindred spirits among his Binx colleagues who also like to tinker with new technologies.
Guided by Curiosity
As for what's next, Maarten is happy with where he is now and trusts his curiosity to guide him. At Binx, inspiration could come in many forms –  a new client project, hearing a colleague talk about their latest experiment, innovation days, or obtaining yet another Google certification.