Summary
Samen met Binx migreerde Visma onderneming ProActive hun Spend Management Platform naar Google Cloud Platform.
"Onze producten van SaaS naar cloud-native migreren is een groot project dat van strategisch belang is voor Visma. Met Binx wisten we dat we de juiste mensen voor deze klus hadden. De migratie is efficiënt uitgevoerd en er is rekening gehouden met best-practices rondom security, kostenefficiëntie en performance optimalisatie." – Dirk Bonenkamp, CTO
Technical Details
GCP Cloud Architect
GCP Platform Fundamentals
Google Cloud
informatietechnologie & ISV's
The challenge
ProActive levert een van oorsprong SaaS product. Om deze toekomstbestendig te maken, heeft het bedrijf besloten het product te refactoren om het op Google Cloud Platform te laten draaien. Het doel van de migratie is om een volledige cloud-native tool voor kostenmanagement te lanceren onder de naam Spend Cloud.
The Solution
Binx werkte aan de containerisatie van de verschillende diensten en implementeerde deze op Google Kubernetes Engine (GKE). Dataopslag werd gemigreerd naar CloudSQL en Cloud MemoryStore/Redis. Om geautomatiseerde, deterministische en reproduceerbare implementaties te kunnen managedn, selecteerde en implementeerde Binx Gitlab en de GKE integratie. Logging en monitoring worden verzorgd door Stackdriver. Tot slot implementeerde Binx consultant Constantijn Visinescu Terraform, een open-source infrastructure-as-code software tool gemaakt door HashiCorp waarmee gebruikers infrastructure-as-code kunnen definiëren en aanbieden.
The results
Na de migratie naar de cloud wordt de management infrastructuur, evenals auto-scaling van het platform, verzorgd door Google Cloud Platform. Binx implementeerde Terraform, een open-source software tool van HashiCorp waarmee gebruikers infrastructure-as-code kunnen definiëren en aanbieden. Dit heeft ertoe geleid dat ProActive meer tijd heeft om zich te richten op productontwikkeling.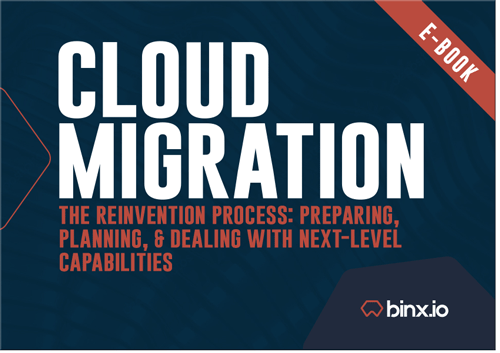 Download the eBook "Cloud Migration — The Reinvention Process"
About the customer
ProActive, onderdeel van Visma, is het bedrijf achter Spend Cloud, een complete oplossing waarmee jij eenvoudig je uitgaven kan managen.
Related case studies
Meet more happy clients