Hey Cloud Professional, Santa Cloud Has a Surprise For You!
Add Google Cloud Skills to Your Mix. Join Us This Holiday Season for Free Authorized GCP Training.
No matter if you've been naughty or nice, these two free training sessions introduce AWS and Azure professionals to the core capabilities of Google Cloud in the four technology pillars: networking, compute, storage, and database.
This training is available for Azure or AWS professionals in the Benelux.
Tell me more about the GCP for Azure training (DEC 13)
Tell me more about the GCP for AWS Training (DEC 20)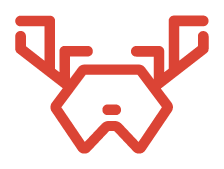 What?
Two free, half-day, training sessions that teach you all about GCP's core components and the equivalent services from Azure or AWS.
Where?
The training sessions take place online because nothing beats being surrounded by your own Christmas decoration.
When?
The GCP for Azure professionals takes place on Monday, December 13th from 13:30 – 17:30 PM CET.
The GCP for AWS professionals takes place on Monday, December 20th from 9:30 AM to 13:30 PM CET.
Who?
There is a session for Azure professionals and one for AWS professionals, only available in the Benelux.
Oh What Fine It is To Ride! These Organizations Have Already Embraced GCP.
What to Expect
Add GCP To Your Mix
These online, instructor-led courses introduce AWS professionals to the core capabilities of Google Cloud in the four technology pillars: networking, compute, storage, and database. It is designed for Azure or AWS system administrators, Engineers, Solution Architects and SysOps Administrators familiar with Azure or AWS features and setup; and want to gain experience configuring Google Cloud products immediately. With presentations, demos, and hands-on labs, participants get details of similarities, differences, and initial how-tos quickly. These training sessions are available for Azure and AWS professionals in the Benelux. Participants receive an official certificate of attendance and are eligible to win great prizes during the training!
Trainer
Martijn van de Grift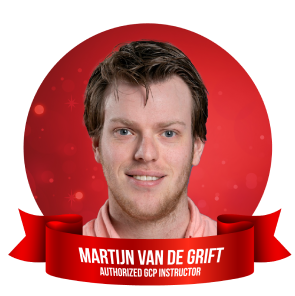 Martijn specializes in creating solutions using GCP and AWS. He holds most of the relevant technical certifications for both clouds. Not only is Martijn a guest lecturer at the Amsterdam University of Applied Sciences, but he is also an Authorized Instructor for both Amazon Web Services and Google Cloud Platform. One of his training courses is O'Reilly's GCP Certified Data Engineering Exam Preparation.
Trainer
Laurens Knoll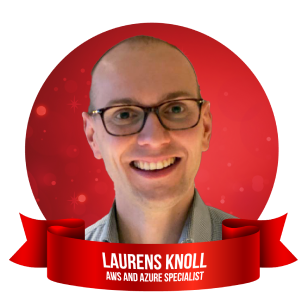 As a cloud consultant, Laurens enjoys taking software engineering practices to the cloud, no matter if it is on AWS or Azure. He can be found continuously improving teams, systems, tools, and processes.
Frequently Answered Questions
Questions and common issues:
Examples: 
My account seems to be blocked
Make sure you use the labs only for the purpose as described, also make sure you use the correct credentials. If in any case your account will be blocked, contact Qwiklabs support.
I have completed 5 labs where can I check my status
You can check your status in 'My Learning', here is an overview of the completed courses. If completed you should see a green V. If one step is not correct or forgotten the green V won't show up.
I can't paste or copy within the labs
Check your browser version and/or preferences.
Qwiklabs doesn't work or is lacking
Since the training has over 40.000 registrations we cannot guarantee that everyone can complete the Qwiklabs at the same time during the training. So if the Qwiklabs are not working or lacking, take notes and try to complete them afterward.
Until when can I use the Qwiklabs?
You can use the Qwiklabs until this coming Friday, 9th of September
Do I receive a certificate after the training
Yes, participants who successfully complete at least 4 (of 5) labs AND submit this form  including a screenshot as proof will obtain the certificate of attendance,
If I miss a lab, do I still get a certificate?
If you miss a lab, you can still obtain the certificate if you complete at least 4 Qwiklabs.
What can I do if I can't access the Qwiklabs but still want to participate?
You can register for the free Skills challenge from Google: https://inthecloud.withgoogle.com/google-cloud-skills/register.html
Will a recording be available?
As this is an official instructor-led GCP training, it is not possible to share the recording.
Common Issues With Qwiklabs
During the training, you will go hands-on with several Qwiklabs. If you haven't done so already, please take a minute to register for the Qwiklabs.
Make sure you use the correct credentials from the lab every time you start a new one
Make sure you use an incognito window every time.
If you do not see the labs, make sure you are using the mail address you registered with for this particular session.
If you have completed a lab there will be a green V showing that it is completed, this overview can be found in 'My learning'. Make sure you completed all tasks correctly, only then the green V will be shown.