A Highly Focused Review of Google Cloud Deployments
The Google Cloud Optimizer is a highly focused review of Google Cloud deployments. It has been developed for cloud architects to ensure their services are secure and reliable, manageable during day-to-day operations, and match business needs.
The Google Cloud Optimizer identifies areas where the implemented approach differs from recommended best-practices. By applying best-practices across the organization, you ensure standardization and achieve consistency.
Four Key Principles
The Google Cloud Optimizer has been built around four key principles — operational excellence, security, privacy and compliance, reliability, and performance cost optimization— and provides a consistent approach for organizations to evaluate architectures, and implement designs with the ability to scale over time.
Each principle section provides details on strategies, best practices, design questions, recommendations, and key Google Cloud services.
An optimized architecture leaves no room for doubt
Business Value
The Google Cloud Optimizer indicates concrete points of improvement for your GCP deployment and provides a consistent approach to architecture reviews.
Approaches for automating the build process, implementing monitoring, and disaster recovery planning;
Insight in products and features best suited to support security needs;
Recommendations include defining reliability goals, improving your approach to observability (including monitoring), establishing an incident management function, and techniques to measure and reduce the operational burden on your teams;
Learn how to tune your applications for a better end-user experience and analyze the cost of operation on Google Cloud, while maintaining an acceptable level of service;
Integrated coaching and skill development for every stakeholder.
Five-Step Approach
A Google Cloud Optimizer is executed with a clearly defined approach. The process is very Binx: designed for efficiency, swiftly executed, delivering concrete and executable outcomes.
Interview – We gather data about workloads by interviewing stakeholders;
Analyze – We cross-analyze reviewed workloads via the guidance offered by the Performance Booster, and extended with our vision on DevOps, QA, Security, and way of working;
Unify – We collate all findings and recommendations in one comprehensive report, including a gap-analysis;
Present – We present the results to product owners, product managers, tech leads, and other stakeholders;
Handover – We hand over the report and remediation plan to your organization.
Investment
The investment in the Google Cloud Optimizer is 1 to 3 days of consultancy. Funding options for remediation might be available. Ask us about the options.
More information
Download the Google Cloud Optimizer Two-Pager
Download the two-pager to learn more about the principles, business value, and deliverables of the Google Cloud Optimizer.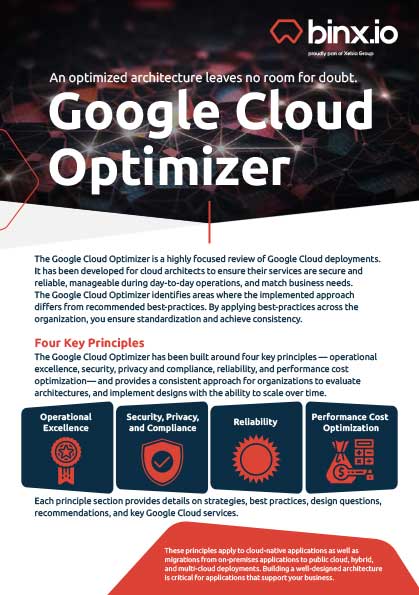 The principles of the Google Cloud Optimizer apply to cloud-native applications as well as migrations from on-premises applications to public cloud, hybrid, and multi-cloud deployments. Building a well-designed architecture is critical for applications that support your business.
Bart Verlaat
CEO Binx